We believe in as much turn-out as possible. Horses at WillsWay are turned out morning, noon and night – weather permitting and according to owner's preference. Our over-sized paddocks are lush with green grass and most provide shelter with large run-in sheds.
Taking up residence in either barn gives you full access to all of the amenities offered on the farm including: 200'x85' indoor arena; temperature controlled tack rooms, lounge and viewing room, kitchens; 200'x100' outdoor arena with lights; multiple wash stalls (indoor and out).
All horses boarded at WillsWay Equestrian Center must be in a Training or Lesson package.
Lessons discounted for boarders.
Main Barn
12'x12′ custom stalls matted with memory foam specifically designed for horses
Yoke Front Stall Door with Dutch Doors to a connected paddock
Three wash stalls with heat lamps and running hot/cold water
Private climate controlled boarder tack room
Climate controlled kitchen and viewing room
Horses are hayed and grained twice daily with a top feed program
Stalls are cleaned on a daily basis and bedded with fresh shavings
Lower Barn
10'x12′ matted stalls with Dutch windows
Storage box
Wash stall with hot/cold water
Climate controlled tack room
Kitchenette
Horses are hayed and grained twice daily with a top feed program
Stalls are cleaned daily and bedded with fresh shavings
Lessons
$60.00 / 45 minutes if you lease or own your own horse
$65.00 / 45 minutes if lesson is taken on a school horse
Purchase a package of 10-45 minute lessons and receive the eleventh lesson free
Semi-private and group lessons available
Hold Harmless Agreement
Lease
Lease horses are available. Half lease starts at $350.00 per month for a six month minimum commitment and runs in conjunction with a lesson package
Half lease allows for 2 hack days + lesson day
Lessee has first option to use horse for shows and/or clinics
Training
Head trainer, Joyce Stever, takes the time to evaluate the partnership between you and your horse and understand the goals you, as a rider, want to achieve. Whether you are a beginner, pleasure or experienced rider Joyce will develop a proper training program to help you and your horse communicate effectively.

Training packages are customized to the level of need and pricing varies.
WillsWay Equestrian Center offers a week long camp program of a different breed. With daily riding lessons, campers, ages 7 and up, will enjoy and learn about the responsibilities of loving, riding and taking care of horses.

Camp runs 

Monday

 through 

Friday

 starting at 

9:00 a.m.

 and ending at 

3:00 p.m.

Activities your child(ren) will enjoy: daily riding lesson, basics in horse grooming & tack care, horsemanship, learning the various parts of a horse, arts & crafts, horse related games & participation in a horse show to end their fun-filled week
$400.00 per week / $350.00 early bird special if registered by 

May 1st

 /
10% discount for multiple children and/or multiple camp sessions
Camp Weeks: 

July 6-13

 / 

July 30 – August 3

Please download and print Hold Harmless release form. Each camper must have a signed release form on file; without it they cannot ride or participate in camp activities.
 Limited Campers Per Session – Register Early!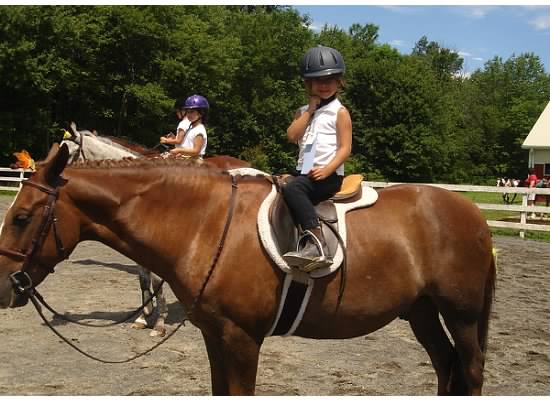 Transform your child's birthday party into a pony palooza! Your child and their friends will enjoy a 2-hour party filled with games and pony rides. You supply the food and paper goods we supply the "palooza".

Parties of 8-10 children (birthday boy/girl is free): $225.00. Each additional child is $15.00 up to a maximum of 12 children. $25.00 each additional half hour over 2 hours.

Please download and print Hold Harmless release form. Each guest must sign a form. No child can ride or participate in the party activities without a signed release form.