We believe in as much turn-out as possible. Horses at WillsWay are turned out morning, noon and night – weather permitting and according to owner's preference. Our over-sized paddocks are lush with green grass and most provide shelter with large run-in sheds.
Taking up residence in either barn gives you full access to all of the amenities offered on the farm including: 200'x85' indoor arena; temperature controlled tack rooms, lounge and viewing room, kitchens; 200'x100' outdoor arena with lights; multiple wash stalls (indoor and out).
All horses boarded at WillsWay Equestrian Center must be in a Training or Lesson package.
Lessons discounted for boarders.
Main Barn
12'x12′ custom stalls matted with memory foam specifically designed for horses
Yoke Front Stall Door with Dutch Doors to a connected paddock
Three wash stalls with heat lamps and running hot/cold water
Private climate controlled boarder tack room
Climate controlled kitchen and viewing room
Horses are hayed and grained twice daily with a top feed program
Stalls are cleaned on a daily basis and bedded with fresh shavings
Lower Barn
10'x12′ matted stalls with Dutch windows
Storage box
Wash stall with hot/cold water
Climate controlled tack room
Kitchenette
Horses are hayed and grained twice daily with a top feed program
Stalls are cleaned daily and bedded with fresh shavings
Lessons
$60.00 / 45 minutes if you lease or own your own horse
$65.00 / 45 minutes if lesson is taken on a school horse
Purchase a package of 10-45 minute lessons and receive the eleventh lesson free
Semi-private and group lessons available
Lease
Lease horses are available. Half lease starts at $350.00 per month for a six month minimum commitment and runs in conjunction with a lesson package
Half lease allows for 2 hack days + lesson day
Lessee has first option to use horse for shows and/or clinics
Training
Head trainer, Joyce Stever, takes the time to evaluate the partnership between you and your horse and understand the goals you, as a rider, want to achieve. Whether you are a beginner, pleasure or experienced rider Joyce will develop a proper training program to help you and your horse communicate effectively.

Training packages are customized to the level of need and pricing varies.
WillsWay Equestrian Center offers a week long camp program of a different breed. With daily riding lessons, campers, ages 7 and up, will enjoy and learn about the responsibilities of loving, riding and taking care of horses.

Weekly camp sessions begin in July and run through August.

Sessions will be determined by number of registrants per week.

English and Western riders welcome.

$375.00 per week ($25.00 discount if registered by June 20th) / $50.00 discount for multiple children or if registered for multiple camp sessions.

Camp starts at 9:30 a.m. and ends at 3:30 p.m. Monday through Thursday and 3:00 p.m. on Friday.

Activities include: Daily riding lessons; basics in horse grooming and tack care; horsemanship; learning the various parts of a horse and arts and crafts.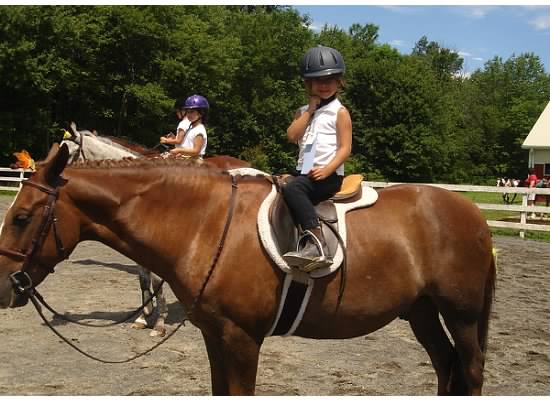 Transform your child's birthday party into a pony palooza! Your child and their friends will enjoy a 2-hour party filled with games and pony rides. You supply the food and paper goods we supply the "palooza".

Parties of 8-10 children (birthday boy/girl is free): $225.00. Each additional child is $15.00 up to a maximum of 12 children. $25.00 each additional half hour over 2 hours.

Please download and print Hold Harmless release form. Each guest must sign a form. No child can ride or participate in the party activities without a signed release form.